An effective and natural biopesticide
As many chemical pesticides have either been withdrawn or will soon be banned, fruit growers are constantly looking for new ways to control insect pests in crops. They want efficient and ecological solutions to protect their crops and improve their yields.
It is with this vision of a sustainable agriculture that BioTEPP developed its biopesticide VirosoftMC CP4, an integrated management tool in the fight against the larva of the codling moth (apple worm) and the oriental fruit moth. Highly effective in controlling these pest insects that attack pome fruits, stone fruits and nuts, Virosoft CP4 is harmless to humans, pollinating insects and other beneficial insects.
BioTEPP is one of the main suppliers of fruit growers in Canada and several American states, including those of Washington, Oregon, Pennsylvania and New York.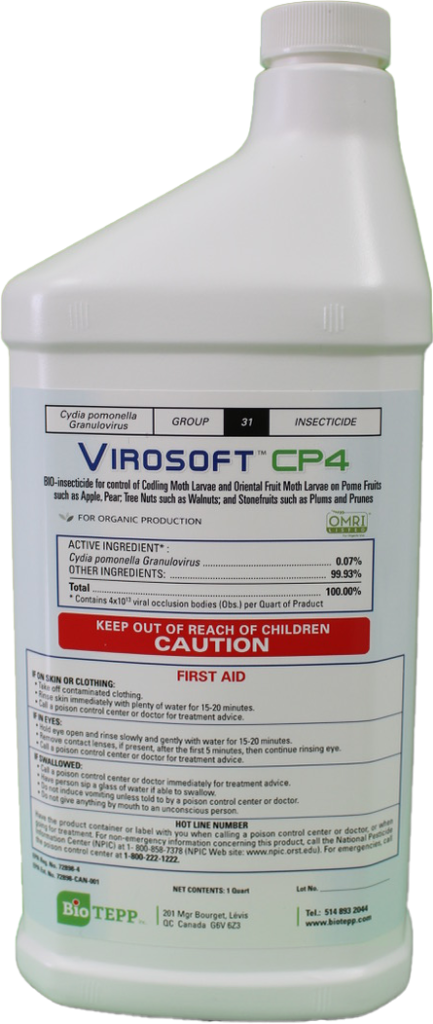 Sustainable agriculture
is our main focus
BioTEPP Inc. is an innovative biotechnology company that produces an environmentally friendly biopesticide thus reducing the spreading of chemical pesticides and their residues in food, a guarantee of sustainable agriculture.
Based in Quebec, the company provides agricultural companies with biotechnology-based solutions to ensure the production of healthy and safe products.  Through its R&D program, the company intends to continue its work with a view to develop new biopesticides based on baculovirus or microbial cultures.
Virosoft CP4 now registered in the United States to control both the oriental fruit moth and the codling moth