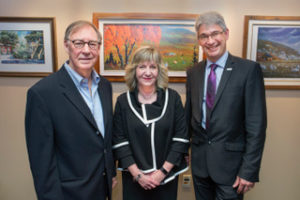 From left to right: Claude Gagnon, president of BioTEPP, Shelley King, CEO, Natural Products Canada and Christophe Roubinet, Investment Director of Filaction
The investment reflects the growing demand for innovation and natural approaches to the agri-tech sector
Lévis (Quebec), September 11, 2018 — Filaction, a Quebec development fund, and Natural Products Canada (NPC), the national not-for-profit that provides insights, introductions and investment to natural products companies, today announced an investment in BioTEPP Inc, a Canadian biotechnology company with an innovative solution to pest management. Details of the deal were not disclosed.
The deal reflects the growing global demand for innovation and natural approaches to agri-tech and other sectors. BioTEPP's VirosoftTMCP4biopesticide leverages a naturally occurring microorganism for the reduction of codling moth damage on apple, pear, plum, prune, and walnut trees.
"Companies like BioTEPP that have capitalized on this advanced technology to create a natural solution show great potential for investors," says Christophe Roubinet, Investment Director of Filaction. "We are pleased to invest in their future growth."
The investment represents the first partnership between Filaction and NPC, and fully utilized each organization's capacity to assess, develop, and de-risk the opportunity.
"Investments such as those of NPC and Filaction, will help BioTEPP grow further and develop new insecticides in the highly efficient sector of entomopathogenic viruses," said Claude Gagnon, president of BioTEPP. "We're privileged to have such experienced partners to accompany us."
BioTEPP will use the capital to accelerate its expansion and increase commercialization of its flagship product Virosoft™ CP4into promising new markets.
The BioTEPP investment is the fifth addition to the NPC investment portfolio, which was started in 2017 to help innovative Canadian natural product companies attain the capital necessary to achieve growth milestones.
"NPC is proud to invest in BioTEPP and their innovative biopesticide technology," says Shelley King, CEO, NPC. "The quality of their product is a direct reflection of the passion of the entrepreneurs and the depth of experience in the innovation ecosystem that surrounds them."
About Filaction
Filaction is a development fund that supports Quebec SMEs, particularly those of the social economy, diversity, culture and tourism. It offers financial tools to various entrepreneurs and pays particular attention to small and medium-sized businesses located in the regions of Quebec, communities and groups that are not well served by traditional financial institutions. This fund is a tool for sustainable economic, social and regional development. Filaction was created in 2001 on the initiative of Fondaction, which applies to its capital invested. www.filaction.qc.ca
About NPC
Natural Products Canada (NPC) works with an array of partners to commercialize naturally-derived products and technologies in health and life sciences, natural resources, agriculture and agri-food, and sustainable bioproducts. It acts as matchmaker and mentor to companies and researchers; serves as technology scout and ecosystem navigator for multinationals and large corporations; and helps investors discover, develop, and de-risk opportunities. NPC has over 400 opportunities in its pipeline and has completed five investments, including one exit. Established in 2016, NPC is funded by a range of public and private investors, including the Government of Canada's Centre of Excellence in Commercialization and Research (CECR) program, administered by the Networks of Centres of Excellence. Visit www.naturalproductscanada.com.
About BioTEPP
BioTEPP Inc. is a Canadian biotechnology company that develops, manufactures and markets environmentally friendly natural bio-pesticides, thus reducing the use of chemical pesticides. Its first product, Virosoft™ CP4, is registered and marketed in Canada and the United States where BioTEPP is among the leading suppliers helping apple growers control codling moth.
-30-